TUFF Sports
"Success is no accident. It is hard work, perseverance, learning,studying, sacrifice and most of all, love of what you are doing or learning to do"
– Pele
Introduction
The Unity of Faiths Foundation (TUFF) is a secular charity based in the UK. Its educational football project, TUFF Football Community (TUFF FC), is designed to support youth integration, create positive developmental pathways for children from all backgrounds, and to promote British values and identity. The project tackles poverty, gang-related violence, radicalisation, drug addiction and social disharmony. TUFF FC has been successful in the UK and Europe, and has seen many of its graduates go onto further study and even to international universities on full sport scholarships
The project originated in areas in need of integration and dialogue with mainstream society. However, it soon became clear that children growing up in white working and middle class areas needed to understand and interact with minorities, too. The dual nature of the project – educating those from immigrant and ethnic backgrounds, together with the white majority, lies at the heart of TUFF FC's success
Project Background
The project started in West London in August 2014 with 15 youths, who until then were playing football in dangerous concrete cages. Since then the involvement and commitment of The Unity of Faiths Foundation, it has attracted tens of thousands of youths of various ages from all over London. It has since expanded into other areas of the UK and Europe. To date, the project has stopped many youths from travelling to Syria, thus contributing towards supporting the state in saving thousands of lives.
Methods
To the children participating in the project, TUFF FC improves their skills and ability as sports people. However, the project is underpinned by rigorous and robust planning, drawing upon character education, life coaching and mentorship, and workshop-based learning. We ensure that the children don't just learn values in the classroom, but embody them on the football pitch, and in later life, society. Through exhibition matches with teams from different areas, they come to understand the importance of the project for community cohesion and resilience, becoming ambassadors for their neighbourhoods.
Stage 1: Establishing the project
=> Participant recruitment and 'Getting them playing'
=> Base lining of children's behaviour and attitudes and introduction to British values
Stage 2: Integrating character education with structured coaching
=> Behaviour and character tracking
=> Integrating workshop-based learning with life coaching on the pitch
Stage 3: Reaching outwards and community engagement
=> Establish a sense of belonging through volunteering in the local area
=> Organise exhibition matches with teams from different areas and enter regular competitions
Stage 4: Graduating and entering society
=> Through mentorship of the participants, TUFF FC graduates move on to further education or employment with a firm British identity
=> Graduates return to the project to give guidance and advice to younger participants
TUFF FC's projects are tailored to the needs of each individual local area, thus maintaining a grassroots nature within a national framework.
Its supporters include President Antonio Tajani, President Barack Obama, Pope Francis, Diego Maradona and Jeremy Corbyn.
In 2015, we won the Pride of Britain Sports Award.
Jeremy Corbyn with TUFF youths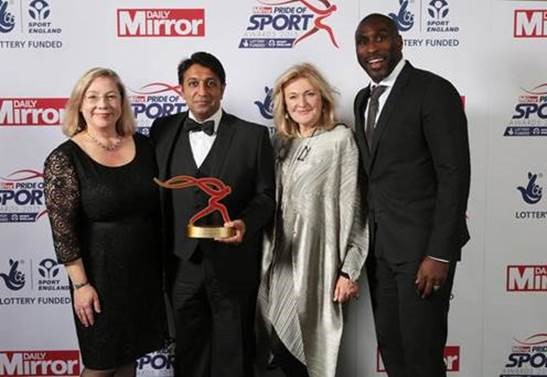 TUFF wins the Pride of Britain Sports Award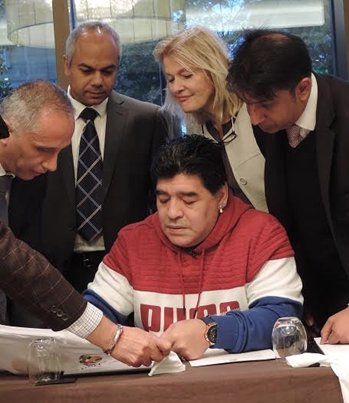 Diego Maradona signs for the chairty
President Tajani of the Euro Parliament with TUFF founders, trustees and supporters from Jewish and Muslim communities
FA Chairman Greg Dyke and former England manager Roy Hodgson with TUFF founders
Since starting in 2014, the project has attracted much media coverage:
Local
=> Evening Standard: http://www.standard.co.uk/news/london/london-football-project-to-help-eu-tackle-youth-extremism-a3162716.html
National
=> ITV: http://www.itv.com/news/london/2016-09-14/tuff-fc-the-team-of-teens-set-up-to-help-fight-young-people-becoming-radicalised/
=> ITV: http://www.itv.com/news/london/2015-10-12/london-club-fighting-fundamentalism-through-football/
=> ITV: http://www.itv.com/news/london/update/2016-06-03/tuff-fc-help-tackle-youth-radicalisation-in-belgium/
=> BBC – http://www.bbc.co.uk/programmes/p03x47wc
=> BBC – http://www.bbc.co.uk/programmes/p03ksy2c
=> Mirror Online: http://www.mirror.co.uk/news/uk-news/barack-obama-invites-british-kids-6483766
International
=> Channel 7 (Australia): https://www.facebook.com/TUFFFC/posts/1907891199530996
=> Euronews: http://www.euronews.com/2016/06/02/football-tackles-terror
=> AP: https://www.youtube.com/watch?v=IA7nWO8gLco
Do you need to talk?
If you're a worried child and need to talk to someone, then Simon Agboola, our club welfare officer, is ready to listen to your worries. He can usually be found at training on a Mon/ Wed/ Thursday nights or you can contact him via email: s.agboola@virginmedia.com or call him on 07778775069
It's great having Simon as our Club Welfare Officer as he's here to help keep all our fantastic footballers safe and sound, so if you're feeling sad about something then please talk to him.
If you don't feel brave enough to speak to Simon directly, then perhaps you can tell an adult that you trust and they can talk to Simon for you? Or, maybe you could talk to someone who doesn't know you? Did you know you can ring the National Childline FREE and they have lots of people ready and willing to listen to children's problems.
Their main number is 0800 1111 but they even have a special football hotline which is 0808 800 5000.

So don't feel down – share your troubles!